Almelo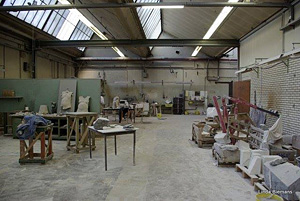 Almelo lies in the east of the Netherlands, 40 km from the German border (Nordhorn) and 180 km from Amsterdam.
Almelo is about 2 hours from Schiphol Airport, Amsterdam. The train from Berlin to Amsterdam stops in Almelo.
On a former factory site in the center of Almelo, Linda has a beautiful studio where she has more than 400m² at her disposal.
Work hours:
Monday to Friday: 09:00 to 17:00.
Wednesday evening: 19.15 to 21.45.
Minimum attendance: 1 student.
Apply for course in Almelo » Weekend course
From Friday 13:00 to 19:00 on Saturday
Sunday: 09:00 to 17:00.
Minimum attendance: 4 students.

It is not possible to complete a sculpture in one weekend. But for those who prefer a short, intensive course and then wish to continue working at home on their sculpture, this is an ideal opportunity.
Marble
Linda's studio contains a large stock of marble of various types and sizes and at a reasonable price.
Sculpting in Almelo, June 2020:
Your investment for:
1 week: € 450.00
2 weeks: € 850.00
Long weekend: € 150.00

A 40% deposit is required within 5 working days after confirmation of registration. The balance must be paid on the first day of the course.

Are you looking for accomodation in Almelo? We have information for you here!