Pietrasanta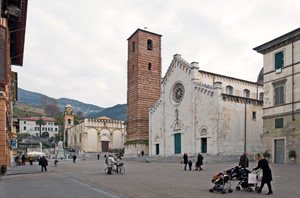 The historic city of Pietrasanta (Lucca) is a mecca for both artists and art aficionados. Over the years many artists have found their way to Pietrasanta and have stayed there for short or long periods. Artists can work there in one of several marble studios. The whole town breathes art and it is to be found (mostly as modern art) on every square and in almost every street.

Pietrasanta is located at the foot of the Apuan Alps, three kilometers from the Mediterranean Sea. From the center and points outside the city medieval hiking trails wind through the mountains.
Studio Marco Maretti is located in the center of Pietrasanta. The studio is equipped with all facilities required for working in marble, such as trestles, electricity and a compressor.
Apply for course in Pietrasanta » Work hours:
Monday to Friday: 09:00 to 12:00 and 14:00 to 17:00.
Saturday: 09:00 to 13:00.
Minimum attendance: 1 student.
Marble
Pietrasanta can supply much of the marble used for sculpting. Our procurement starts with Linda's regular suppliers. If this fails to produce the required marble we then contact other suppliers.
Sculpting in Italy, October 2020:
Your investment for:
1 week: € 500.00
2 weeks: € 950.00
3 weeks: € 1,350.00
4 weeks: € 1,700.00
A 40% deposit is required within 5 working days after confirmation of registration. The balance must be paid on the first day of the course.
Arrival is on Saturday or Sunday. Course starts on Monday morning.
On the first day we will set out to buy a good piece of marble.

Are you looking for accomodation during your stay in Pietrasanta? We have information for you here!